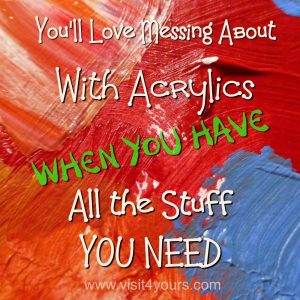 A friend was telling me about how she had always wanted to paint, but hadn't had time. Now that her children are grown up she wants to make a start.
She had been reading about acrylics and how versatile they are, you know you can paint on almost anything with acrylics! She thought that was really good because she wants to paint pictures but would like to use them for some crafts ideas she has.
With her birthday approaching, other friends were looking for ideas for a gift so I made this list to help them find something that she will love.
Click Here to jump to the pictures!
I was curious about the craft ideas she had and asked what she had in mind.
These are some of the things she wants to make
Paintings on canvas and board.
Decorated stones – she has collected smooth stones for years and some suggest animals or are very round and she thinks she could make them really interesting.
Weights made of fabric filled with sand to hold back doors. Simple shaped bags could be painted with patterns or scenes.
She has some ideas for painting wooden objects too, but does not have a plan formed for that. Suffice to say she is eager to try ideas that have been building up inside for years, and she wants to let them out!
Acrylics are perfect for all those ideas so…
Whether you paint yourself, love crafting or have a friend or member of the family who make art, I hope this list will help.
Even someone who already paints would appreciate extra supplies, I think.
Acrylic Painting – what you need to start
These are descriptions of the Basic art Supplies. You can jump ahead by Clicking Here

Paints – A set with good colours for mixing and some basic much-used colours works for any painting style.
Brushes – Synthetic brushes are ideal, but you might want some bristle ones sometimes, to show the texture of the stroke.
A Surface to paint on – I have chosen stretched canvas but you can also use: Canvas Pads, Canvas Panels and Pre-Stretched Canvas.
Palette to mix on – I thought I'd show a 'keep wet' palette because acrylics dry quickly, but there a many other kinds, such as plastic, wood and tear-off.
Water container –  A glass jar is ideal. Nothing to buy for this.
Rags or paper towel – Rags are best but they do need to be cotton. Kitchen Tissue is a good substitute.
Carryall for your art kit – When painting outdoors or going to classes a neat way of carrying just what you need is handy. A toolbox is sturdy and has a tray in the top for pencils, pens or brushes.
Optional Extras
Easel – While you can paint the work flat on the table, being able to hold work upright or at an angle in front of you is much better, especially for larger pieces. There are lots of different kinds. Your choice would depend on the scale of your work and where you paint.
Palette-knife – Many artist work only with a palette knife to apply the paint and for those who don't, they are very useful for mixing colors.
Apron – keeping clean while you work is a good idea. Acrylics stick to fabric and could ruin your clothes.
Portfolio – To carry work or to store it. There are different kinds and sizes available with and without sleeves.
Seat – Be comfortable when you are painting – even outdoors. A portable seat is a useful addition to the kit.
Here are the Basics
The links will choose the destination according to where you live!
You can go Back to read more about these by clicking here
#1

Set of 12 Acrylic Paint colours in Large 75ml Tubes by Outlines

#2

Artist Paint Brushes Set with 15 Artist Brushes in a Case that's also a Paint Brush Holder

#3

With a Big Pack of 12 inch Square Canvases in 100% Cotton you won't have to stop painting!

#4

Airtight Keep-Wet Palette for Acrylic Paints

#5

Stanley STST1-75517 Essential 16inch Toolbox with Plastic Latches, in Black and Yellow

 ……enjoy!