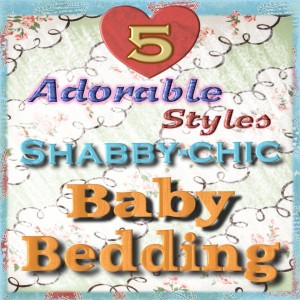 These adorable designs work well as shabby chic baby bedding sets and can look great in your baby's crib or cot.
You can easily achieve the shabby look for your baby's room by combining soft colors, a touch of elegance and age, and even some real vintage furniture – taking care to remove any really old paint in case of lead content.
Repainting in a modern paint using layers of different color and rubbing off to show the coat beneath can achieve that aged look really well.
My neice's two are just one year apart so her soft greens and yellows was a great choice because the set has been fine for both babies and she had no peer pressure to buy more.
There is something for girls and boys and for those who want a unisex color scheme – and you can't go wrong with the pure white for a newborn.
#1

CoCaLo Daniella Crib Bedding Set 8 Piece

#2

Girl's and Boy's Bedding All White Crib Set with Ruffled Details

#4

Floral Antique Flower Baby Girl Bedding Crib Set with White Ruffles

#5

Rosebud Designs with Soft Green Crib Bedding – lovely for a white metal cot

#3

Gender Neutral Baby's Nursery Bedding in Yellow with Alphabet motifs. Full Set of 13 pcs has the Quilt plus Diaper Bag with Changing Pad & more. Great if you don't know whether the baby will be a boy or a girl, or simply don't want to go pink or blue.