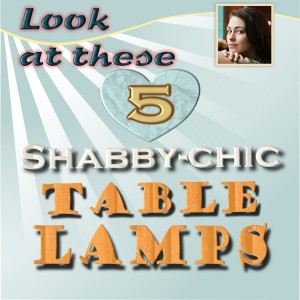 What better than shabby chic table lamps to complete the picture in your room? This selection may help to get you started and show how different they can be.
You can have some fun with colour and lampshades. Some of them have stands that are the focal point and others make much of the shade that is used. Some simple in style and others quite fancy and they can be very ornate indeed!
Whether for a bedroom, diner or sitting room, or even to lighten a dark corner in the hall, there is bound to be a style to suit your spot.
We found ourselves re-thinking the decor around the lamp design at one point, but then we fouund one that complemented the furniture rather than matching the style. It's really very harmonious  duirng the day and provides some sparkle at night.
#1

Antique Shabby White Candlestick Design a with Beige Bell Shade and Hanging Crystal Cluster 

#2


Tiffany Floor Standing Lamp White and Crystal Glass With Decorated Bronze Stand 

#3


Rubbed White Birds in a Row Small Sculpture Side Lamp with Hessian Shade 

#4

Shabby White Metal Candle Lantern with Etched Glass